Where Do We Begin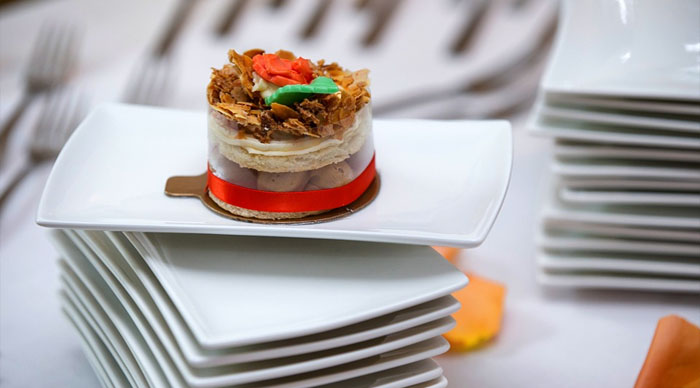 Your guests will remember the food at your wedding, so you want good food and enough of it. Begin your search for a caterer at the same time you are looking at venues. The two decisions really go together since many venues have their own catering team or have contracts with specific caterers.
Here are some options when beginning to think about the food that will suit your wedding style and budget.
Formal seated dinner
If your reception is at a hotel, club or ballroom you may want to consider a formal seated dinner. These can cost less than a buffet as caterers know exactly how much food to order and prepare, whilst buffets have to cater for guests who revisit.
Buffet
A buffet allows you to offer several entrées so that guests have more choice. Your caterers will be able to provide fast cook items so that hot items, such as burgers, are available. Buffet food is usually only out for two hours for health as well as taste reasons, so check this fits with your plans. Consider who will invite tables to head to the buffet one at a time and who will clear dirty plates. Your caterers may provide waiting staff for this.
Cocktail Party
If you're on a budget, a cocktail party in the evening is a good idea, unless you've a guest list of more than three-hundred or you want food available for more than three hours, in which case a seated dinner may be a similar cost. If you are a bride who doesn't seek the spotlight and would like to skip the first dance and dances with parents, this is an ideal catering arrangement. Start the evening at around 8pm, so guests are not expected more than the hors d'oeuvres on offer.
Casual Barbeque
Increasingly popular at backyard, barn and park weddings is the barbeque. A great idea for couples with close-knit friends and families who will enjoy the informality. Caterers will bring their own mobile kitchen, so even if your barbeque is at a yard party, you need have no worry about them using your kitchen.
Signature cocktail
The finishing touch to any great menu is a signature cocktail. The bride and groom can choose their favorite drink and give them names that have a special meaning to them or choose signature cocktails that match the wedding colors.
Drinks for Summer Weddings
Lemonade
Watermelon Refresher
Champagne and Fruit
Margarita Madness
Blueberry Mojito
Pineapple Rum Tea Punch
Rhubarb Raspberry Fizz
Presents and other stuff
Romantic occasions are many and wedding is not the only one though it may be the biggest one. These occasions need a present because it represents your love and attention to the person you love! Here we share this great
guide on Valentine's day gifts
where you will not only get some good ideas but will also find some luxury yet affordable jewelry. Engoy!
The Most Wanted Wedding Favors For Guests
HOMEMADE JAM WEDDING FAVORS
CUSTOM FORTUNE COOKIES
CANDY BAR WEDDING FAVORS WITH PHOTOS
MINIATURE COOKIE JAR WEDDING FAVOR